Staff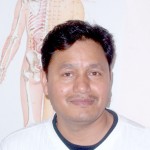 Nar B. Thakurathi, Manager, Christian
B.A. Kumaon University, Nainital, India
Former teacher and NGO volunteer
English and Hindi language speaking
Shanti Pun, Assistant Manager, Christian
Technical Examination in the field of Assistant Nurse Midwife, Institute of Community Health, Mahendranagar.
English speaking
Umesh Bhatt , Christian
Nepal Sanskrii University with Ayurvedic medicine or Ayurvedic Health Assistant (A.H.A.), working at this clinic for 3 years
English speaking
Rabin Dhoz Lama, Therapy Technician, Christian
Former drug addict treated at this clinic in 2010
English speaking
Salomi Lama
Logistic Assistant
No related posts.